By Josh Suttill July 9, 2018 Autosport
Over 66,000 gamers were whittled down to a pool of 40, and after a three-day assessment at Silverstone, all the F1 teams except Ferrari had the opportunity to add up to three of the qualified drivers to their line-up during a live-streamed event on Monday night.
Williams was randomly chosen to have the first pick, and chose 18-year-old Finnish racer Tino Naukkarinen, who admitted after selection that his "whole life is going to change now."
Like Williams, Force India opted to sign just one gamer from the Pro Draft, with 2017 F1 eSports runner-up Fabrizio Donoso Delgado joining the already-confirmed Marcel Keifer and Mads Sorensen.
There were emotional scenes to close the night, with the last pick going to Sauber, which chose Sonuc Saltunc, allowing him to join his brother Salih and fellow 2017 finalist Allert van der Wal at the team – which recently unveiled a partnership with Formula E championship leader Jean-Eric Vergne's Veloce eSports team.
Cem Bolukbasi was identified as the top driver from the assessment days, but was forced to wait until the seventh pick, as Pierre Gasly revealed Bolukbasi had been chosen by Toro Rosso. The team later added Patrick Holzmann, who finished fourth in the inaugural F1 eSports championship.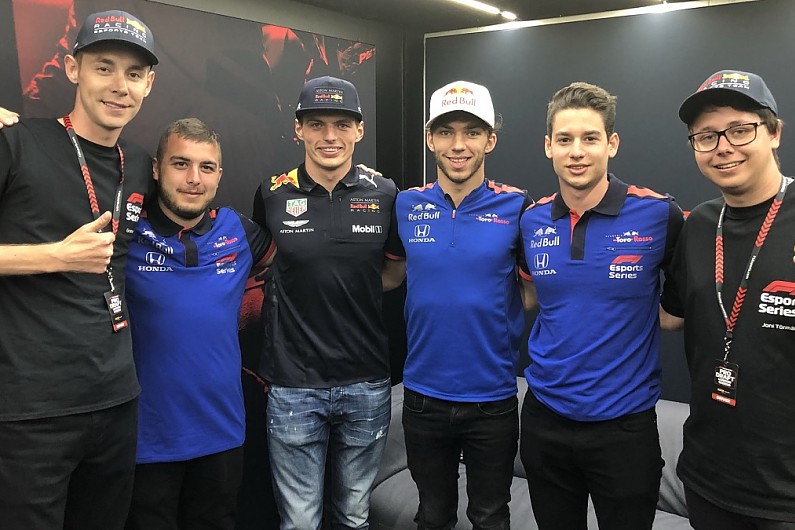 Max Verstappen announced 2008 British National Formula Ford 1600 champion Graham Carroll and Joni Tormala, who topped the sim racing section of the assessment period, as Red Bull's drivers.
The characteristic sim racing veteran Olli Pahkala was McLaren's sole pick, while Haas opted for Czech drivers Martin Stefanko and Michal Smidl.
Last year's third-place driver Sven Zurner missed the opening day of the Pro Draft assessment in order to sit one of his final exams for his apprenticeship but was picked up by Renault, which is competing in partnership with eSports giant Vitality.
Renault also chose Apex Online Racing fan favourite James Doherty and Kimmy Larson, who came out on top in the reactions test. Mercedes opted for Hungarian gamer Daniel Bereznay.
Teams will now compete in a three-event championship this autumn on Codemasters' yet to be released F1 2018 game, with a prize fund of $200,000 on offer.
F1 eSports 2018 line-up so far
Mercedes AMG Petronas Motorsport
Daniel Bereznay
Red Bull Racing eSports
Joni Tormala, Graham Carroll
Renault Sport Team Vitality
Sven Zurner, Kimmy Larsson, James Doherty
Haas F1
Martin Stefanko, Michal Smidl
Hype Energy eForce India
Fabrizio Donoso Delgado
McLaren Shadow
Olli Pahkala
Toro Rosso
Cem Bolukbasi, Patrick Holzmann
Sauber
Salih Saltunc, Allert van der Wal, Sonuc Saltunc
Williams eSports
Tino Naukkarinen