July, 2, 2018 Seeking Alpha
Amazon first entered the eSports/Video Game world in 2012 with the launch of Amazon Game Studios.
Amazon paid $970mm in cash for the gaming/streaming service Twitch.tv in 2014.
Amazon announced the development of 3 eSports focused titles in late 2016.
Amazon announced GameOn, a platform to be licensed to developers to allow them to integrate their games with various eSports functionality/services and dedicated Twitch streaming.
Twitch.tv and its exclusive streaming partnerships/dedicated viewer base will serve as an additional leverage point for Amazon Prime.
Introduction/Thesis
Amazon (AMZN) is one of the most popular and fastest growing stocks on the market today. Growing 503% in the last 5 years may seem exuberant for most companies, but the breadth of Amazon's offerings and products keeps their growth potential uncapped. One avenue Amazon has been actively exploring has been eSports, an industry exploding in worldwide popularity that also shares a seemingly uncapped growth potential. The infrastructure Amazon has in place from their Amazon Web Services and various physical and digital publishing abilities give them the ability to dominate game sales and eSports competitions. Amazon will be able to leverage their ownership of Twitch.tv and its exclusive eSports streaming contracts to secure the majority of the eSports viewership as it explodes in popularity across North America.
Rundown Of Amazon Involvement In eSports
Amazon's involvement in eSports tracks back to August 2012 when Amazon launched Amazon Game Studios, a game development and publishing division of Amazon with an emphasis on creating content for the eSports scene. In February 2014, Amazon acquired Helix Games and their 75 employees for an undisclosed amount to bolster the Amazon Game Studios development abilities. In August 2014, Amazon acquired Twitch.tv, the most popular streaming platform in North America with over 355 billion minutes of content watched in 2017, for $970mm in cash.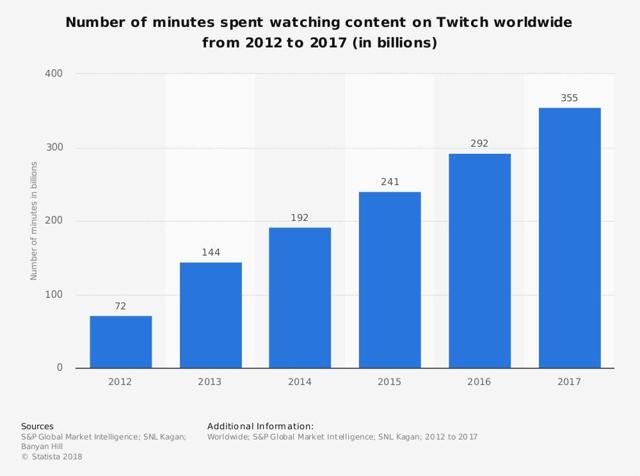 Source: Statista – eSports Market
In 2016, Amazon acquired Curse, a voice client and database manager for PC gamers, and launched their Lumberyard, a free cloud-based game engine released so anyone can design their own game. In February 2017, Amazon hired on the former chief of all online business for Sony, John Smedley, to lead Amazon's new development studio in San Diego, CA. Smedley was also responsible for the creation of EverQuest, and one of the original battle arena games, H1Z1 – King of The Hill. Most recently, Amazon announced that they will be hosting a mobile game eSports tournament where players can compete against each other playing Power Rangers, Survival Arena, Critical Ops, and World of Tanks.
Market Opportunity
The eSports industry generated $650mm in revenues across media rights, advertising, sponsorship, merchandise, tickets, and game publisher fees in the 2017 season. Newzoo's report for the 2018 eSports market projects revenues will reach nearly $1bb and viewership will reach 215 unique viewers this eSports season.

While projections are fantastic for building up an idea, they are still not tangible revenues being recognized. With that, the tangible revenues are keeping pace with the projections. Activision (ATVI) recently signed multi-million advertisement deals with Intel (INTC), T-Mobile (TMUS), Sour Patch Kids, HP (HPQ), and OMEN for their upcoming season of Overwatch League(OWL), the competitive scene for their popular Overwatch game. Activision also sold the 12 teams allowed to compete in OWL at a hefty price tag of $20mm almost instantly and has announced up to 18 expansion teams to be put up for sale at higher prices than the original 12. With Newzoo expecting eSports to grow at a CAGR of 27.4% through 2021, eSports could easily become a multi-billion dollar industry as younger people turn to eSports over traditional sports and as older people begin to accept the dominance of video games in today's entertainment.
Amazon also happens to own the broadcasting rights to Activision's OWL. For the coming season, Amazon will be live streaming all of the competition that takes place in OWL on the Twitch platform. This should help secure additional North American viewership for Twitch as well as gain international viewers who will need to turn to Twitch for the highest production quality in terms of streaming quality and additional competition features (prizes, view competitions, etc).
With Amazon's focus on eSports oriented game development, they are positioning themselves to also directly compete with OWL through their competitive products in development. Amazon's GameOn API, released through Amazon Game Studios, is the perfect complement to capitalize on the explosion of eSports, and the high sums of money being directed towards it. GameOn allows other developers to integrate eSports functionality such as user-generated competitions. The pricing structure for GameOn is based on the user activity in the games using the API. The more people playing your game, the more you owe to Amazon for using GameOn. As video games continue to grow in popularity, and new developers try their hand at crafting a game, Amazon will be able to continually profit as they are the only one to provide this functionality at this scale.
Amazon Halting Development On Breakaway
Since 2016, Amazon has announced the development of three games intended for competitive play with Amazon GameOn & streaming integration. Crucible, a battle royal style game, New World, a strategy-survival game, and Breakaway, a Massive-Online-Battle-Arena (MOBA) game. Given the popularity of MOBAs in the eSports scene when Amazon began developing new titles, they primarily focused on their MOBA Breakaway. In the last few years, MOBA popularity has begun to be siphoned off by battle arena games, such as Epic Games popular title Fortnite. This drastic shift in eSports demand led Amazon to halt production on Breakaway, despite the game being in late Alpha stages of development. While Amazon scrapping a title they appeared to pour so much into may be abrasive to investors looking for exposure to eSports, the entire eSports industry has taken similar actions. Fortnite developer Epic Gamesscrapped their MOBA Paragon and Microsoft is in the process of completely shutting down support for their MOBA Gigantic. The switch in focus is to allowing Amazon to develop their battle arena title, Crucible, with the same eSports functionality as Breakaway. I personally do not find the shift in eSports demand for game type too surprising as MOBAs had been the dominant force in competitive gaming for many years. This is more of the industry naturally churning through trends rather than a sign of demand for game types shifting faster than developers can create profitable content.
Amazon's Advantage And Prime Leverage

Amazon is in a unique position to the majority of game development "startups" due to their dominance in e-commerce. They already have established capital sources to fund development, solid infrastructure systems in place to expedite physical and digital distribution at lower costs, and the ability to do all of the online server management and hosting in-house through Amazon Web Services. With none of the traditional financial video game company hurdles to overcome, Amazon can focus on using their brand and recognition to attract top-level talent to develop some of the first games with eSports consideration in-place throughout the whole creation process. Amazon is also able to leverage their ownership of Twitch.tv to their massive Prime user base of +100 paying subscribers. With streaming being the preferred method of viewing for eSports, Amazon is able to restrict their eSports content, as well as the various leagues with Twitch partnerships, to Amazon Prime, where a subscription to the Prime service would be required to view aspects of eSports content or any live coverage of eSports events.
What This Means For Amazon Shareholders
The impact of Amazon's +$1bb investments into the eSports world could end up being incredibly profitable for Amazon shareholders. In 2017, Amazon generated $1.45bb in revenues from video game related sales. This indicated that Amazon has barely secured 1% of the total video game market share, one of the lowest market shares of any Amazon segment. With the addition of Twitch, Amazon will be attracting more gamers than ever before and could easily secure an additional 1% of the overall market. This incremental increase in market share will likely generate an additional billion in revenues for Amazon. One of the largest trends in video games aside from eSports is the rise in digital format popularity. The prevalence of physical video game sales to digital video game sales has completely inverted since 2009 with nearly 80% of games sold in 2017 being sold in a digital format.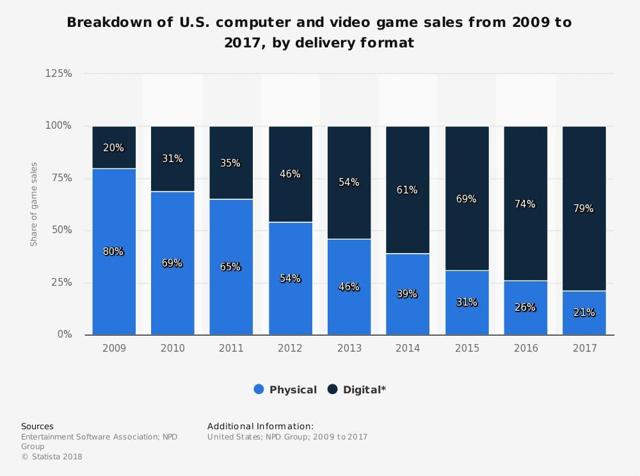 Source: Statista
The rise in popularity of digital sales compared to physical sales drastically benefits the game distributors and publishers (Amazon plays both roles through Amazon Game Studios and their digital content section on Amazon.com) through the massive increase in profit margin digital games produce. Without the need to produce a physical box with cover art and print instructions, digital game downloads have increased video game profit margins from 55% to over 70% by eliminating the need to produce, store, and ship physical game copies.
Despite the additional revenue to be gained from actual game sales, Amazon's biggest opportunity to profit from the explosion of games and eSports is in their Amazon Web Services segment. AWS is Amazon's most profitable segment and is a highly likely place for budding game developers to host their multiplayer servers. With the rise in Battle Royale style games such as Epic Games' smash hit Fortnite, game servers need to be able to handle and process requests from 100 different games pinging in from all across the world. With the affordability and dependability of AWS, game developers will likely turn to them as their first choice to host all online parts of their games. Combining this with the eSports appeal of Amazon Game Studios, investors should not be surprised if video games become a major revenue driver for AWS in the near future.
Conclusion
Amazon has been making moves in the eSports sector since 2012 and has quietly been working their way towards securing a portion of the eSports streaming market as well as the games played in competition. Amazon's ownership of Twitch will likely be integrated into part of their Prime program and require users to get past a paywall to access all eSports content. With eSports projected to generate nearly a billion dollars in revenue this year, and with the success Activision is having with their Overwatch League, Amazon could be positioning themselves to secure a spot as a dominant player in every aspect of eSports and the competitive gaming scene.
Disclosure: I/we have no positions in any stocks mentioned, and no plans to initiate any positions within the next 72 hours.
I wrote this article myself, and it expresses my own opinions. I am not receiving compensation for it (other than from Seeking Alpha). I have no business relationship with any company whose stock is mentioned in this article.